5 Ways to Help Put the Spark Back in Your Relationship
5 Ways to Help Put the Spark Back in Your Relationship
We are all very familiar with the "honeymoon" stage in relationships. You know the beginning of a new romance where you show your best side, the romance is at peak levels, the sex is great and frequent, and wine & dine's are in full effect.  Although many experience this phase of a relationship very few continue to do the things that got them there in the first place. The romance sizzles and slowly dies down and people get too comfortable.  Here are 5 ways to bring back the intimacy and add some spark back into your relationship with that special someone:
1. Romance is Key:  We all want a little bit of love and affection every now and then.  Romance is not about having to mimic what we see on the big-screen or on television, its about the simple gestures that show we care about him/her. Get some new sexy lingerie and surprise him with it. Cook her a romantic candelight dinner. Something a little extra to show you appreciate one another.
2.  Let your Voice be Heard:  Communication is key in any relationship.  Your partner may not think or feel that anything is wrong simply because they may not know something is actually bothering you. Sit down and speak up about your relationship.  Share what you want and most importantly make effort on both sides, this can lead to true happiness.
3. Channel your Creative Time:  Having some sexy lingerie in your closet can spice things up and bring sexy back but also look at thinking outside the box by creating love coupons. It can include anything and everything from a massage to a magical night full of sexcapades. For ladies look into taking a belly dancing class or for the more bold, pole dancing has become popular these days.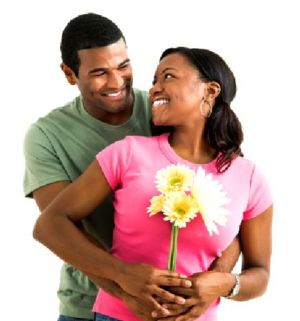 4.  Learn to Forgive:  It's easier said then done but forgiveness is important if you want a lasting relationship. If you continue to hold on to the past and not forgive him/her the spark can dwindle over time.  In order to keep your relationship alive you must forgive and move on.  Forget about him not doing what you wanted for your birthday or how he forget to call and say good night. Forgive and try to stay in the present in order for your relationship to prepare for a promising future. No ones perfect right?
5.  The Little Things Matter:  Sometimes we forget about the simple things and those are the most valuable ones. Leaving a special note in his lunch bag or calling him in the middle of the day to say "I love you" goes a long way. For her it can be getting her a bouquet of her favorite flowers or joining her to watch her favorite television show. Little things bring big rewards.
In need of some relationship advice or hit some speed bumps with your significant other. Reach out to A, she is always ready and willing to offer her advice. You can reach her here
What have you done to spark things up in your relationship? Has there been a time where you feel your significant other has stopped being romantic? Share with us and comment below
Get The Latest Glam News & Events Directly Into Your Inbox!