#AngieDicé- Holiday Gift Guide for Him
Choosing a Holiday Gift for Your Guy
The holidays have surely crept up on us faster than we expected and with that you might be wondering how to choose a gift for the guy in your life…Socks? Wallet? Cologne? What?  How can you pick a gift that tells him that you care and appreciate having him in your life. A few things to consider are; length of time you've been dating/together, your budget, his interests vs. his needs, & gift cards.
First question, how long have you been together?  If you and your guy haven't been together long, he might not plan on exchanging gifts, and that in it of itself can be totally awkward. Rule of thumb:  communicate with him and set the expectation that you will be exchanging gifts.  You don't want to get him a gift if you just met him at your cousin Jerry's Thanksgiving party.  Too much, too soon. So, if you've been dating for more than 2-3 months and agree to exchanging gifts, you might want to get him a little something.
Second question to consider when choosing a gift for your guy, is what is your budget?  If you want to get your guy the iPhone 5S or the newest PlayStation but will have to make gourmet ramen noddle meals and Kraft macaroni and cheese side dishes like the good ol college days, you might want to reconsider getting him something more in your budget.
Now interests vs. need:
Is your guy a fitness buff, tech savvy, a gourmet cook, or a basketball fan? Knowing what he enjoys can give you insight on choosing a gift he would enjoy. However, in the same breath him mentioning he he is in need of a pair of boots for the winter or a new wallet can also inspire what gift to give. Sometimes the best gift might be just what he wants. It shows that you pay attention too. Extra brownie points anyone?
If all else fails and the above doesn't help you with getting a great gift, there's always the gift card option. Why not?  Then he has the option of purchasing what he actually wants.  You can get creative with wrapping it or getting a few other nick knacks he likes to add on and show your attemp.  Try to keep these tips in mind and you might be able to pick the perfect gift for him.
Gift Idea Inspiration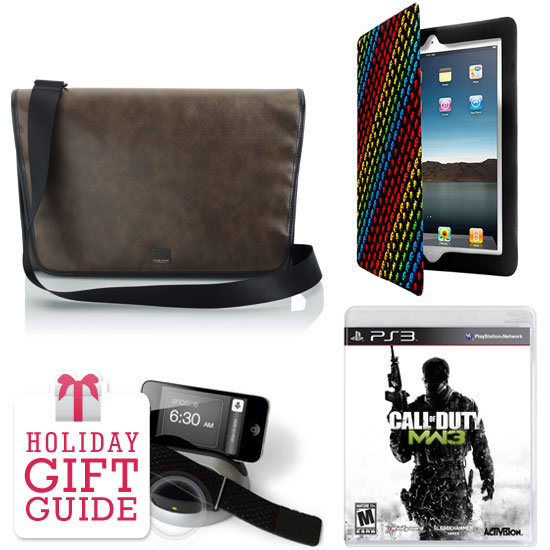 Happy Holidays.
Peace & Love
A
Follow Angie on Instagram All_Things_A1  and write to her at angie@m3glam.com if you have any questions.

Get The Latest Glam News & Events Directly Into Your Inbox!