MTV Introduces New Latino Docu-Series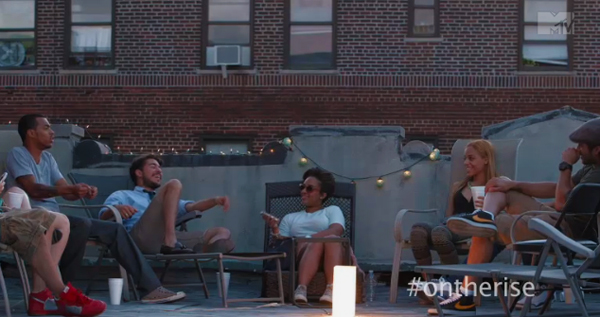 It has been a long time coming and finally the moment is here. There has been a lot of talk of a reality show brewing up in Uptown Manhattan and it seems the rumors are true. MTV announced yesterday that the new Latino docu-series Washington Heights will air on MTV January 9, 2013 at 10pm/9c. The show sets scene in Washington Heights of course, documenting the lives of 9 friends who all have dreams which are yet unfulfilled. Trying to make it through circumstances that have the odds against them they stick together to support one another. Embracing cultural roots, dealing with everyday life struggles, and keeping their hopes alive we get a glimpse  of their journey to reach success. From the trailer we get the semi staged presence but do appreciate the mostly positive highlighted stories. Everyday people from familiar backgrounds trying to make it. May sound cliche but the truth is this may be our opportunity as Latinos to shine a new light and begin to break stereotypes. There are really no Latino english speaking shows on air and if taking a baby step means beginning with a reality show, I say hey its an awesome start. Washington Heights is becoming a new progressive neighborhood and recently trend setting in nightlife, the arts and small business. Lets see what these ladies and gents have in store for us. Stay tuned.
In the trailer below, you'll meet a group of born-and-bred New Yorkers trying to make it while still honoring their parents' struggle and cultural origins. Some goals are as simple as passing the GED, others are as lofty as seeing a pro baseball's starting roster. At the end of the day, though–when the weather's nice and there's squatting space on a nearby rooftop–nothing is more important than kickin' it with old friends. Finally landing that first fashion show? That's just icing on the cake.
Check out the video, and be sure to tune in to "Washington Heights" when it premieres Wednesday, January 9 at 10/9c!
MEET THE CAST:
 JP, a.k.a. Audubon, represents the Heights through and through. He is the undisputed peacekeeper, motivator, and glue behind this tight-knit group of friends. When he's not putting out fires and making sure his friends stay on track while pursuing their respective dreams, he's chasing his own goal of making it big in hip-hop. In the meantime, there are bills to be paid and little money coming in. JP still lives at home with his mom and fears he'll have to give up his.
Reyna is known as a fiery diva who doesn't shy away from trouble. While she may be confrontational, this budding singer is the first one to laugh at a joke and have a friend's back. However, if you mess with her friends, you mess with her.
Frankie might be little, but she's got a big personality with boy-crazy tendencies and always has a snappy one liner at the ready. She acts tough, but also expresses her sensitivity and struggles through the spoken word poetry she writes and performs. Frankie hopes to become an English professor, but gets constantly derailed by her feelings for Ludwin.
Ludwin, who is known for rocking a style all his own, dreams of a career as an artist. He and Frankie share a mutual attraction, but with everything going on in his life, can he step up and be everything she is looking for?
Jimmy dreams of a professional career in baseball, but the odds are against him. His father is finishing a seven-year stint in prison, and with his mother out of the picture as well, Jimmy has been on his own since he was 16. To make matters even more complicated, his girlfriend, Eliza, is an outsider in the group, causing conflict with the friends he's had his whole life.
Rico lives at home with his mother and younger brother, Fred. He is best friends with JP and a big supporter of his music. Rico's dreams change day by day; one minute, he's a model … the next, an actor. However, his days of having his head in the clouds are numbered. He's the oldest sibling and his family needs him to step up his game, become a man, and contribute.
Fred is in direct opposition to his seemingly unfocused, less ambitious older brother, Rico. Fred is always on his hustle and is doing all he can to make it in the fashion industry.
Taylor might look like a preppy cheerleader, but she's Heights to the core. Despite her all-American good looks, Taylor's known for having an off-beat sense of style and a different perspective on what goes on with her crew of friends.
Will you be tuning in to watch Washington Heights when it airs January 9? What do you think about the cast so far? Let us know in the comments below
Get The Latest Glam News & Events Directly Into Your Inbox!